Popular number 1! Anniversary 【12 sashimi with sashimi · including local sake 120 minutes drinking】 with ◆ ◆ 6000 yen → 5000 yen ◆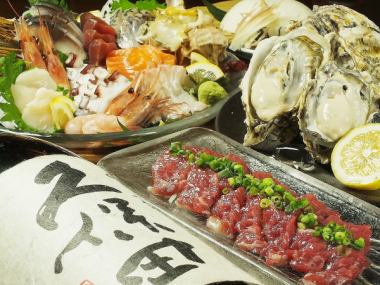 By using a coupon
5000 Yen
120 minutes with all you can drink, tax included with coupon usage is 5000 yen.
Our most popular course !! Mr. secretary's must-see, contents of great satisfaction! Beef steak, fried kinakara fried, fresh fish handfuls etc.
Menu
■ appetizer 3 points
One-pot dishes tailored to the season
■ Fishes of the sea - Sashimi of Yama no Sashi 12 sashimi
Assorted 12 sashimi and seasonal vegetables selected carefully for that day
■ Exquisite horse sting
Our popularity! Repeat rate 99%!
■ Grilled wagyu beef
Soft meat with special sauce!
■ Today's salad
■ Grilling eyes
■ Crab vinegar
■ 2 fish fish grips
Selected fresh fish of that day!
■ dessert
Coupon that can be used
All-party course 【All-you-can-eat including 120 minutes drinks】 with ◆ ◆ Banquet number × 1000 yen discount ◆

Presentation conditions

At the time of booking and when visiting

Conditions of use

For each course use / more than 2 people / 1 pair 1 time / No combination ticket / service combined / 【Seafood packed】 【Chinhan】 course unavailable / last order of unlimited drinks 30 minutes ago

Expiration date

Until the end of January 2018