Course details
Shochu Course 【12 sashimi with careful selection of sashimi】 【Including local sake 120 minutes drinking】 with ◆ ◆ 7000 yen → 6000 yen ◆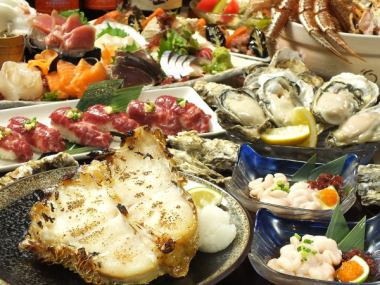 By using a coupon6000 yen
120 minutes with unlimited drinks, tax included with coupon usage is 6000 yen
All-you-can-drink available

All you can drink menu Over 200 kinds! Draft beer Sapporo Classic, local sake such as Kubota Senju, with authentic shochu ♪
Available days for reservation

Monday - Sunday - Public holidays - Holidays
Special courses with Akkesi-produced oysters! Can be changed to a plan with a pot! (Take, have pig kimchi, please choose from Chanko)
Course menu
■ Mie Maru direct fishing vessel raw oyster
■ Fishes of the sea - Sashimi of Yamanoyo sashimi 12 points
Assortment of seasonal vegetables and luxuriously selected 12 sashimi of carefully selected sashimi
■ Direct delivery of Kumamoto! Exquisite horse sting
Our shop repeat rate 99% excellent!
Beef fillet steak
■ Grilled crab shellfish
Crab body, crab miso, crab pastry dish
■ Seasonal salad
■ Broiled Silver Mutsu
White lettuce with grease! It is also popular with our cult boasting!
■ Tempura or Pot of Shrimp with Shrimp (with, Pork Kimchi, Chanko)
I am using Aibetsu's dance mushrooms and asparagus as well!
■ 3 grips
■ Dessert
Recommendation of the day
All-you-can-drink menu
·draft beer
· Sapporo Classic
· Shochu
· Water split, oolong high, green tea high, jasmine high, shoulder lime, shochu lemon, sho calpis, lime sour, lemon sour, calp sour, blue apple sour, giant peak sour, giant peak calp sour, honey yuzu sour, honey apple sour
·Cocktail
· About 50 kinds of bass 【【Peach> <Lychee> <Cassis> <Wine> <Milk> <Campari> <Sake> <Jin> <Vodka> <Lamb> <Tequila>] The base is about 50 kinds! Kuyanyan, FuzzyNABLE, Lychee Orange, Cassis There are many such as Orange, Moscow Mule, Gin Tonic, American Lemonade, Operator, Kalua Milk, etc. ♪
· Makgeoli
· Makgeolli, Banana Makgeolli, Yuzu Makgeolli, Plum Makgeolli, Big Peak Makgeolli, Peach Makgeolli, Blue Apple Makgeolli, Calpis Makgeolli, Melon Makgeolli, Orange Makgeolli, Acerola Makgeolli, Pine Makgeolli, Pomegranate Makgeolli
· Others
· Wine, sake, plum wine, apricot sake, whiskey
·Soft drink
· Oolong tea, green tea, jasmine tea, calpis, orange juice, grapefruit juice, pine juice, cola, ginger ale
Major shochu
· 【Potato】 Satsuma White Wave · Black Kirishima · Ikkima · Satsuma Island Beautiful, 【Wheat】 Ichigo, 【Rice】 Shiratake Shiro, 【Shiso】 Kochi Tan, · 【Awamori】 Remnant Wave · Ruizen · Milas Island, 【Brown Sugar】 Amami no Mori
Local sake
· Kubota Senju, Shibata, Hundred Treasures, Ogre Keroase, Kyoto Denji, Ichinose, Hachihama, Ozeki
· Authentic fruit wine
· Yuzu plum wine, Lemon plum wine, Sequacer plum wine, Red plum wine, Kakudama plum wine, Minami high plum wine
2019/01/18 update