Course details
Extra large button shrimp ☆ Sashimi 12 squares / silver mush 【Including local wine at 120 minutes drinking ◆ ◆ 9000 yen → 8000 yen ◆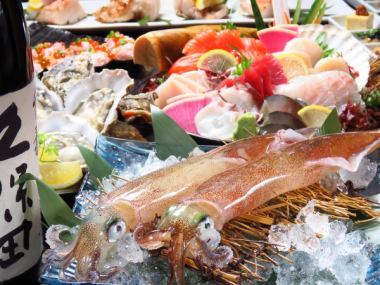 By using a coupon8000 yen
120 minutes with unlimited drinks, tax included including coupon usage is 8000 yen
All-you-can-drink available

All you can drink menu Over 200 kinds! Draft beer Sapporo Classic, local sake such as Kubota Senju, with authentic shochu ♪
Available days for reservation

Monday - Sunday - Public holidays - Holidays
With plush sashimi platter, luxury course! Please enjoy Hokkaido's fortune.It can be changed to a plan with a pot! (Seafood, having, pig kimchi, please choose from Chanko)
Course menu
■ Miyuki Akkeshi Maru Fishing Boat sent directly oversized oyster
Fisherman direct sending Okishi from Akkeshi
■ Extra large button shrimp, fish of the sea, sashimi of Yamanoyuki 12 sashimi
Please be surprised at the size of the button shrimp! The taste is outstanding!
■ Kumamoto premium horse sting
Our most popular No. 1 Repeat rate 99% gem
■ Ikeda Beef Calbi Steak
Ikeda beef of a high rank was softly baked and finished with a special sauce
■ Seasonal salad
■ Activated scallops with butter roast or pot (seafood, having, pig kimchi, chan)
Use fresh scallops in Hokkaido
■ Beef 3 seeds together
Three scales of scallop, hockey, and conch
Grilled Grilled Silver Muts
Specialty cooking on course
■ Sea urchin and soup on rice
This is ultimate, bowl of sea urchin and homemade Ikura!
■ Dessert
Carefully selected dessert
All-you-can-drink menu
·draft beer
· Sapporo Classic
· Shochu
· Water split, oolong high, green tea high, jasmine high, shoulder lime, shochu lemon, sho calpis, lime sour, lemon sour, calp sour, blue apple sour, giant peak sour, giant peak calp sour, honey yuzu sour, honey apple sour
·Cocktail
· About 50 kinds of bass 【【Peach> <Lychee> <Cassis> <Wine> <Milk> <Campari> <Sake> <Jin> <Vodka> <Lamb> <Tequila>] The base is about 50 kinds! Kuyanyan, FuzzyNABLE, Lychee Orange, Cassis There are many such as Orange, Moscow Mule, Gin Tonic, American Lemonade, Operator, Kalua Milk, etc. ♪
· Makgeoli
· Makgeolli, Banana Makgeolli, Yuzu Makgeolli, Plum Makgeolli, Big Peak Makgeolli, Peach Makgeolli, Blue Apple Makgeolli, Calpis Makgeolli, Melon Makgeolli, Orange Makgeolli, Acerola Makgeolli, Pine Makgeolli, Pomegranate Makgeolli
· Others
· Wine, sake, plum wine, apricot sake, whiskey
·Soft drink
· Oolong tea, green tea, jasmine tea, calpis, orange juice, grapefruit juice, pine juice, cola, ginger ale
Major shochu
· 【Potato】 Satsuma White Wave · Black Kirishima · Ikkima · Satsuma Island Beautiful, 【Wheat】 Ichigo, 【Rice】 Shiratake Shiro, 【Shiso】 Kochi Tan, · 【Awamori】 Remnant Wave · Ruizen · Milas Island, 【Brown Sugar】 Amami no Mori
Local sake
· Kubota Senju, Shibata, Hundred Treasures, Ogre Keroase, Kyoto Denji, Ichinose, Hachihama, Ozeki
· Authentic fruit wine
· Yuzu plum wine, Lemon plum wine, Sequacer plum wine, Red plum wine, Kakudama plum wine, Minami high plum wine
2019/01/18 update