★ Our 2 boasted courses <Horse riding / draft beer including 120 minutes drinking with>> 【Chinchon course】 ◆ Special price 4000 yen ◆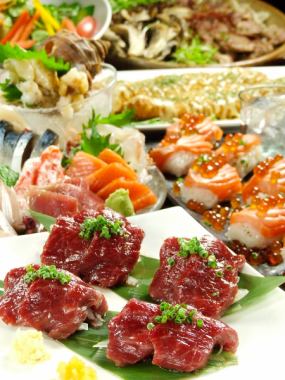 4000 yen
120 minutes with unlimited drinks, tax included special price 4000 yen with coupon usage
A representative course of our shop! Recommended course with store name!
Menu
■ Appetizer Three points
■ Fishes of the Sea - Sashimi of the Yamanoyuki 10 sashimi
More carefully selected ingredients!
■ Kumamoto direct delivery superb horses
Directly send fresh lean from Kumamoto!
■ Ringer's Genghis Khan
Teppan! Delicious just iron plate!
■ Tortilla Mimosa Salad
■ Chikachi special croquette
Croquette with a store name! It is not a date!
■ How much salted roasted salmon sushi
It's definitely a million people! It's just delicious!
■ dessert
Recommendation of the day
Coupon that can be used
Two big banquet courses of confidence [seafood packed course] 【Chihanchi course】 ◆ 120 minutes special price with drinking 4000 yen! ◆

Presentation conditions

At the time of booking and when visiting

Conditions of use

2 people / more / 1 pair / 1 ticket / no other tickets / services combined use / last order unlimited drinks are 30 minutes ago

Expiration date

Until the end of November 2017