DETAIL
★ Our 2 boasted courses <Oyster · draft beer including 120 minutes drinking with>> 【Seafood packed course】 ◆ Special price 4000 yen ◆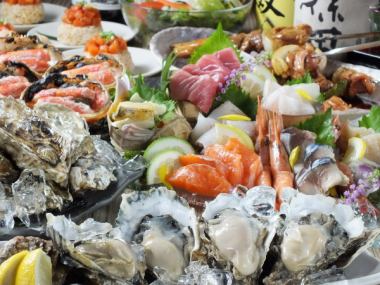 By using a coupon4000 yen
120 minutes with unlimited drinks, tax included special price 4000 yen with coupon usage
All-you-can-drink available

All-you-can-drink menu whopping more than 100 kinds! Sapporo Classic draft beer, ♪ with potato shochu, barley shochu
Chikamachi's seafood main course! This is also a popular course!
Course menu
■ Miki Akkeshi Maru Fishing Boat sent raw oyster
■ Fishes of the sea - Sashimi of the Yamanoyuki 10 sashimi
More chewy ingredients carefully selected!
■ Extra large BBQ skewers
Chicken grill with eating response!
■ Spring salad
■ Crab shell bean-baked
Gazzle with miso on crab or crab crab of snow crab!
Deep-fried kinki
Please enjoy the luxury fish kinki in Hokkaido
■ 2 grips
■ dessert
All-you-can-drink menu
·draft beer
Sapporo Classic
Shochu
- Whiskey and water, Oolong high, green tea high, jasmine high, sake lime, lemon sake, sake Calpis, lime sour, lemon sour, Calpis sour, green apple sour, grape sour, grape Calpis sour, honey yuzu sour, honey apple sour
- Potato shochu, barley shochu
· [Potato] Satsuma whitecaps, [wheat] Ichiko
·Cocktail
· [<Peach> <lychee> <Cassis> <wine> <milk> <Campari> <sake> <Gin> <vodka> <rum> <tequila> base of about 50 kinds! Kunyan, Fuzzy Navel, lychee orange, cassis Orange, Moscow Mule, gin and tonic, American lemonade, there are many operators, Kahlua milk, such as ♪
- Rice wine
- Rice wine, banana rice wine, yuzu rice wine, plum rice wine, grape rice wine, rice wine peach, blue apple rice wine, rice wine Calpis, melon rice wine, orange rice wine, rice wine acerola, Pine rice wine, pomegranate rice wine
And other
Wine, sake, plum wine, unload wine, whiskey
·Soft drink
· Oolong tea, green tea, jasmine tea, Calpis, orange juice, grapefruit juice, pineapple juice, cola, ginger ale

Coupon that can be used
Two big banquet courses of confidence [seafood packed course] 【Chihanchi course】 ◆ 120 minutes special price with drinking 4000 yen! ◆

Presentation conditions

At the time of booking and when visiting

Conditions of use

2 people / more / 1 pair / 1 ticket / no other tickets / services combined use / last order unlimited drinks are 30 minutes ago

Expiration date

Until the end of May, 2018
2018/04/02 update